Many Real Estate Investors are constantly working to juggle their property investments, family life, and a full-time job. However, the dream of full-time income from Real Estate Investing is easier to reach than most might think. We recently spoke with two of our borrowers who, with the help of Hard Money Loans, quit their corporate jobs to pursue real estate investing full-time.
Anna and Ernie Homer didn't think they would end up leaving their secure corporate careers and Austin, Texas home to live in a travel trailer and pursue real estate investing full-time in Corpus Christi. Thankfully, Anna has family in both real estate and construction in Corpus Christi which made building a reliable team that they could trust so easy. Their family background, and the opportunity to work with more affordable homes, is what influenced their decision to invest outside their local Austin market.
"Anna and I have always wanted to own our own business, it took us a while to land on real estate. We really just got into it by living in and selling our own homes. We would renovate them and then sell them in the Austin metro market," Ernie said.
"It's a different lifestyle, especially coming from stressful jobs in big corporations. It's not a clock-in, 8-5 job. It's a sacrifice to leave that type of secure environment, and you have to make sacrifices to be able to get the business off the ground, but the change is really a positive one," Ernie said. "It's been easier than we both imagined which is awesome."
"The Monday after Anna left her job, we were here in Corpus shopping for appliances for a flip. We were walking through the store aisles and it came to a point where I had to stop her and say, 'Wait a minute – this is our life now. We have to put aside rushing every minute. This is what we do now."
The couple had flipped 3 properties, many of which were live-in flips, before turning to Hard Money Loans.
"We needed to leverage other people's money to do more flips at one time. Our goal is to have bought, completed, and sold 4 -5 homes by the end of 2019," Ernie said.
"I also think we will start to work on smaller flips. One of our properties that Easy Street funded was about 2800 square feet. We are going to focus on flips with 1000/1500 square feet so that we can work on multiple projects at once.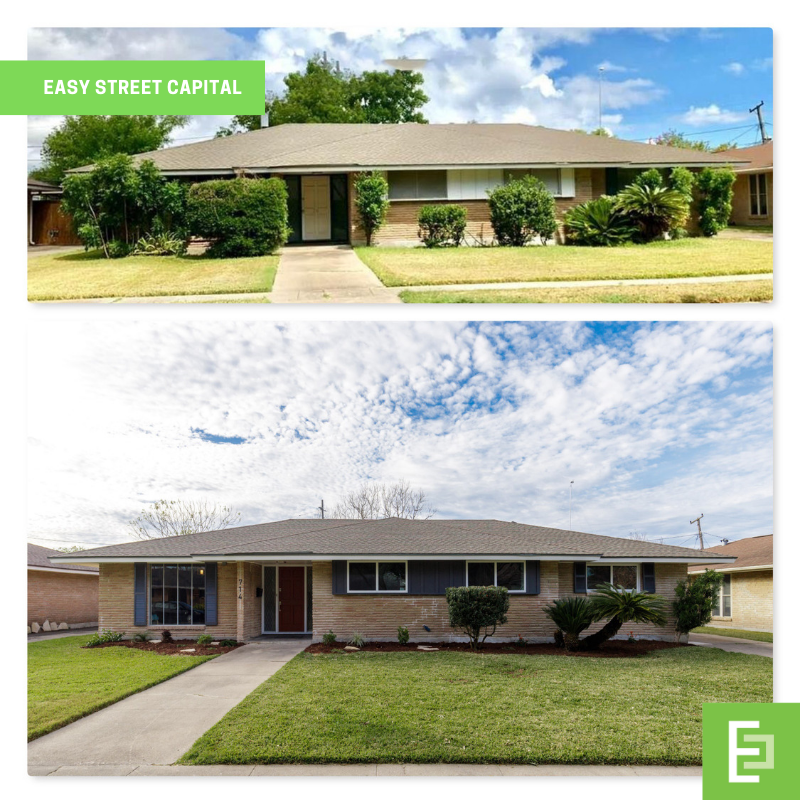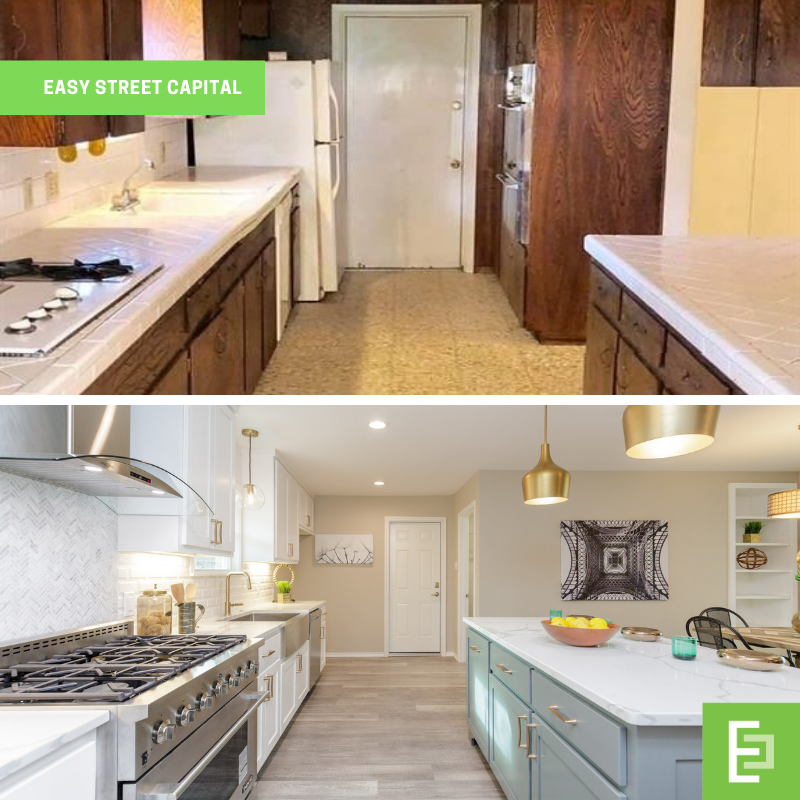 The couple heard about Easy Street through a Facebook Investor Forum but they looked at a number of different Hard Money Lenders before moving forward with the company.
"There were a lot of factors that went into our decision to move forward with Easy Street. That includes the process and how the loan actually works. The process itself was easy. Gabe [an Easy Street Loan Originator] did a great job of comparing how the interest rate was calculated and how an extension would work if we needed one. He knew what the ARV would be when we were done with the project. The appraisal part of the process was a big part of our decision, too," Ernie said.
For their most recent flip project, the couple received a total loan value of $180,000 from Easy Street Capital. Their original purchase price on the property was $150,000, and after many great renovations, it is currently listed on the market at $314,900. Talk about a great investment! The property was also funded with no junk fees, credit checks or appraisal requirements.
"Overall, we are super pleased with the process and with Easy Street," Ernie said. "Kirk [an Easy Street Senior Associate] is fast, efficient and knowledgeable. He responds to us in 5 or 10 minutes."
So, when should one know when it's time to pursue their dream of becoming a full-time Real Estate Investor? Ernie and Anna shared some great insight based off their experiences.
"No matter when you do it, you are never going to be prepared to do it. If you wait until you are 100% prepared, it's just going to end up being a dream for the rest of your life. You just have to do it, and when you do do it, you'll wish you did it 5 years earlier. When it's possible, even if it's hard, that's really the time to jump out there and give it a shot," Ernie said.
"Also, what it really and truly comes down to, is the team that you put together. As far as preparation, just understand what it means to build a team. That includes Hard Money Lenders, Contractors, those who can help with legal documents, those who can help with insurance. If you don't understand the process behind building a team you'll never know who to trust. Building those relationships ahead of time is great preparation. Our story is not just about a couple who left their full-time job to pursue this, it's about the team."
Lucky for Ernie and Anna, their team involves more than just outside companies and service providers. Not only does working as a pair make their workload more reachable, they are able to lean on each other for any hard decisions and experience the satisfaction of succeeding with their best friend.
"We do not agree on everything. Ernie and I have been in live-in flips, bought homes, made changes to those homes, brought the value up, and then sold them for a profit. This is a process we've done for years. We are constantly shopping together and going into homes and thinking about what we like and don't like. We really compliment each other when it comes to making those decisions for our properties," Anna said.
"The decisions on what we do in a flip are not one-sided. We balance each other out and we both have a say in how we do what. We are working together 100% of the time and living in a travel trailer, which is a small space. We have strong will to have an opinion," she added.
The couple uses many different resources for inspiration including YouTube, HGTV, Pinterest and Instagram.
"We look everywhere for inspiration. We don't care where it comes from," Ernie said.
However, when it comes to growing knowledge, the couple said looking at something hands-on is the way to go. Even with the amount of books and tutorials that are available, they strongly recommend talking to the professions that you hire.
"For example, we had never done tile work in a kitchen before. We asked our tile guy questions like, 'What are you doing? What type of tile should we use? What do you see done in the high-end homes? How did you do that?' We have no problem saying we don't know what someone is talking about. It's important to ask those questions and then learn from them so you are not asking the same things 5 years down the road."
"[Asking these questions] helps in the learning process and it helps in the relationship-building process. Our tile guy is an invaluable guy in our crew. We want him to know we value what he says. Building those relationships have been important."
If you have a strong desire to build your business in real estate, like Ernie and Anna did, Easy Street Capital would like to help. Regardless of experience or credit, we offer loan programs for every borrower. Fill out our quick, 1-minute loan application and an Easy Street team member will be in contact soon.

Subscribe to our newsletter