Here at Easy Street Capital, we are 100% committed to earning our borrowers trust and confidence. We are so thankful to work with great investors daily, and have witnessed some pretty awesome transformations in real estate properties all over Texas.
Greg Shyne is a borrower of ours who flips affordable properties in the DFW area. He has financed three properties with Easy Street Capital, which we both hope is just the beginning! We briefly spoke with Greg, to learn about his experience working with lenders and what advice he has for others who are interested in getting started with their own investment projects.
Greg looked into Easy Street Capital after being referred to Kelly Smith, an Easy Street Account Manager, on an investor Facebook group he joined. After receiving the recommendation, he decided to check out both Kelly's Facebook and LinkedIn profile pages.
"There were so many positive reviews about Kelly on Facebook, that I almost assumed they were paid for," Greg said. "They were almost unbelievable because they were so good."
"I had used other lenders prior to Easy Street Capital, but at the time I was looking for someone with better terms and a lot less hassle. The lack of red-tape around everything was very appealing and the terms made it incredibly easy for me."
Greg lives in North Dallas and calls the Mesquite / Garland area his "sweet spot" for investment properties because it is not far from his home and he finds the houses there are very affordable.
Lucky for him, his wife is a real estate agent, and has helped him find great investment properties and complete many flip projects. When they met, she was taking classes to become an agent. Real estate is something that connected them from the start and made them the duo that they are today.
In fact, Greg is the most proud of the first few properties he and his wife were able to flip together. With the first house they flipped, they worked on renovations every single day for 139 days straight – even on Thanksgiving! Talk about commitment. Neither of them had a construction background, but he is thankful for the experience, because it provided them with hands-on training and the knowledge to do the job. Now, when they hire out for any renovations on properties, Greg says they have an idea of when someone is trying to overcharge them or not complete the job as they should.
"Doing the manual work is not for everyone, but I do not regret doing it, and I would do it again if I had to."
His advice for those looking to complete their first fix and flip project is to always double-check your numbers. When looking at your After Repair Value (ARV), take the conservative approach, and base your overall repair budget on a more reserved number. Greg has read several books that have benefited him including "The Millionaire Real Estate Investor," "Principles: Life and Work," "FLIP: How to Find, Fix, and Sell Houses for Profit," and much more. "Rich Dad Poor Dad: What the Rich Teach Their Kids About Money – That The Poor and Middle Class Do Not" is the book that led Greg to eventually become interested in Real Estate in the year 2002.
"Easy Street mixers are also a great resource for real estate investors. My absolute favorite part about those mixers was that I got the opportunity to meet the Easy Street Team in person. My wife and I drove all the way to Austin because we loved Kelly so much and couldn't miss the opportunity to actually meet her face-to-face. You also get to network with tons of other investors in the area. That in itself is priceless."
Although he says dealing with the unknowns can be very hectic and stressful, and finding consistent and dependable people can be a challenge, the best part of a flx and flip project is going through the property and creating your personal vision on how you can make the home more valuable. His signature touch? He loves granite countertops and tries to include them in all of his projects.
When it comes to selling his properties, he considers the overall process as something that was pretty easy for him. His advice to those looking to sell a property for the first time? Pay attention to your timing as far as when you put your property on the market. One of his first experiences going through the selling process, Greg put a property on the market during the first week of school, which he claims was one of the reasons it seemed harder to sell.
For the three properties that Greg funded with Easy Street Capital, he had a total estimated profit of over $120,000 and received up to a 90% LTV ratio. Greg is so happy with his experience with the Easy Street Team, that when asked for suggestions, he claimed if anything, he wishes Easy Street would expand their market region outside of Texas. He is from Louisiana and would love to potentially begin investment projects in his home state one day.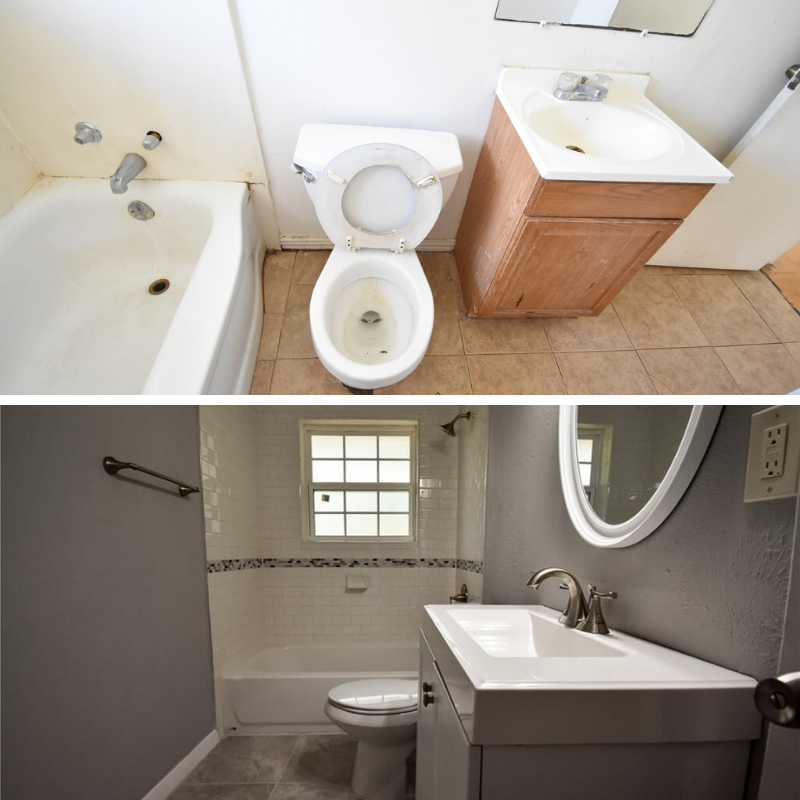 "Although Easy Street is not the first lending company I have used for a hard money loan, you guys were the easiest and definitely the most dependable company I've come across. I recommend you guys to everyone."
Interested in a hard money loan? We move fast. After filling out an application, we will provide you with a loan term sheet within 24 hours. Easy Street Capital has full discretion which allows us to fund your loan in as little as 48 hours if all parties are prepared to close.
"The process literally couldn't be easier," Greg said. "Easy Street really performs when they say they are going to perform and I know once I get an approval for a home it's set in stone. I truly believe it is the best in the business."
If you have any questions regarding Easy Street Capital or hard money loans in general, don't hesitate to reach out to us. We would love to help you achieve your investment goals!

Subscribe to our newsletter