Real Estate investors looking for returns from both cash flow and appreciation continue to love Maryland for investment properties. The Old Line State is loved by real estate investors due to many factors including a strong diversified economy, booming population and natural beauty that drives year-round visitors! Easy Street Capital is proud to be a leading provider of rental properties for real estate investors looking for loans to build rental portfolios in Maryland!
Investment Property Loan Types
Despite it's small size, there are diverse markets and types of investment property loans to choose from in Maryland. Maryland has a lot of older properties with great bones, but in need of renovators to restore them to their former glory. For investors adept at rehabbing older properties, hard money renovation loans are a perfect choice! These loans allow you to buy a property quickly and fund your renovation costs too! Once completed, you can either "flip" the property for a quick return or pursue the BRRRR Method buy renting it out and then refinancing into a long-term, low-rate DSCR loan!
Investment property loans can be a useful tool for real estate investors, particularly when purchasing turnkey rental properties. The term "turnkey" refers to properties that are already rental-ready and require no further renovations. Move-in ready single-family and multi-unit homes, as well as fully furnished short-term rentals, can generate both cash flow and price appreciation. Long-term DSCR loans are generally fixed rate for thirty years, allowing investors to lock in a fixed interest rate while rents and appreciation continue to increase over time. This can be a powerful way to steadily build wealth through real estate investing.
Where To Invest In Real Estate In Maryland
Maryland is also known as "Little America" or "America in Miniature." This is because despite it's small size, it has tremendous diversity of areas, similar to what you'd find in the entire continental United States. As such, Maryland offers markets for every flavor of real estate investing strategy. Annapolis is is the state's capital city and also a picturesque waterfront town loved by short-stay visitors. Frederick is a growing city in the middle of the state with a strong cultural heritage. Silver Spring is a large suburb of Washington, DC with a well-educated and strong potential tenant pool. Columbia, well-located between Washington and Baltimore, is the second biggest city in the state. Finally, Ocean City is a popular vacation destination on the coast, great for short term rental investment properties.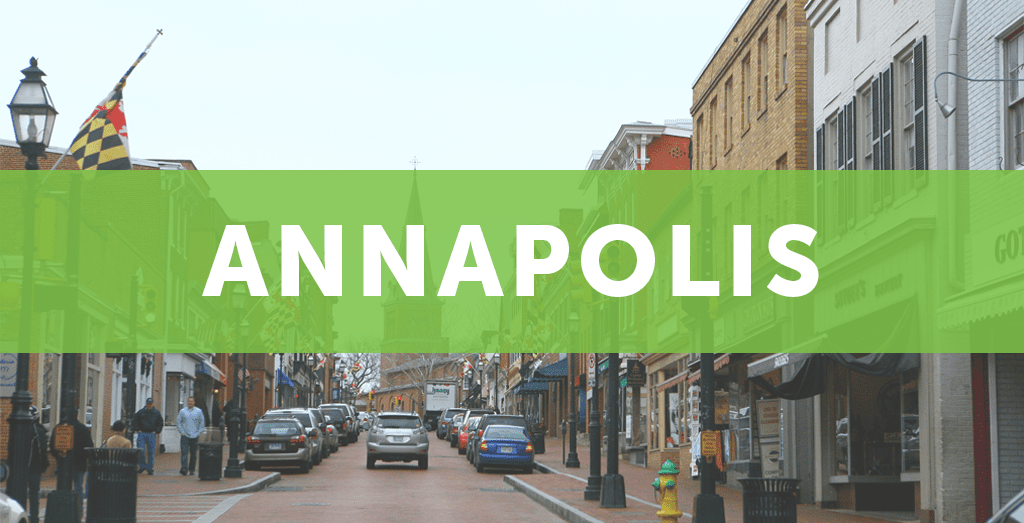 Annapolis
Annapolis is the capital of Maryland and a beautiful town on the Chesapeake Bay. It is home to a diverse range of industries, including healthcare, state and county government, and technology. The city has a low unemployment rate compared to the national average, making it an attractive market for long-term rental properties. According to the US Census Bureau, the population of Annapolis grew by 8.7% from 2010 to 2020. This was higher than the national average, indicating a steady increase in demand for rental properties.
Annapolis is also a popular tourist destination, with attractions such as the US Naval Academy, the Maryland State House, and the Chesapeake Bay. The city's charming historic district, with cobblestone streets and colonial architecture, adds to its appeal. In addition, Annapolis hosts several events throughout the year, including the Annapolis Sailboat Show and the Maryland Renaissance Festival. These draw in visitors and create demand for short-term rentals and vacation homes.
The city is also located adjacent to the US Naval Academy. An important training academy for the United States armed forces, it also drives potential for medium term rental investors. Medium term stays, typically between 30 and 120 days are popular in Annapolis. Visiting military professionals or professors at the Naval Academy could be common medium term rental tenants. Additionally, visitors looking to enjoy the bayfront town during the summer season are also strong potential medium term rental tenants.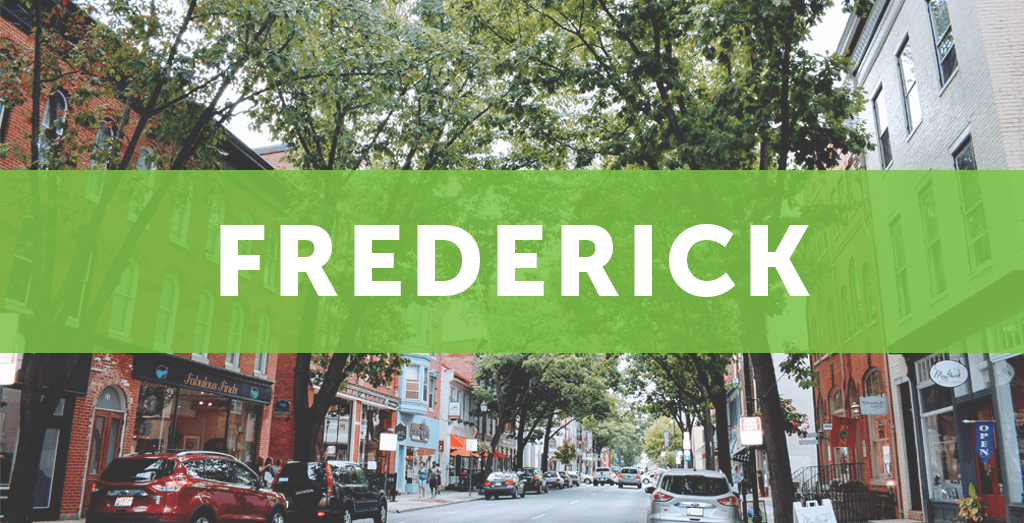 Frederick
Frederick is a rapidly growing city located in the center region of the state with a population of over 72,000. The city's economy is diverse, with significant contributions from healthcare, education, and technology sectors. Cultural attractions, such as the Weinberg Center for the Arts and the Frederick Art Walk, can be found throughout the city, especially in its lively downtown area, which has a wide selection of shops and restaurants that attract both locals and tourists.
Frederick is often referred to as the "Gateway to Western Maryland" due to its central location in the region. Real estate investors can benefit from both short-term and long-term rental demand in the city, thanks to popular events like the Great Frederick Fair and the Frederick Wine Festival, which attract visitors from all over.
Real Estate investors that have deployed capital in Frederick recently have seen tremendous returns. According to Redfin, the median sales price (property value) in Frederick in January 2019 was $268,250. Just four years later, as of January 2023, that number was $400,000. That's a whopping 50% increase in home price appreciation in a very short period,
With easy access to major metropolitan areas like Washington D.C. and Baltimore and a prime location near the Appalachian Mountains, Frederick is an excellent choice, particularly for real estate investors looking to invest in a growing market with significant potential for future development.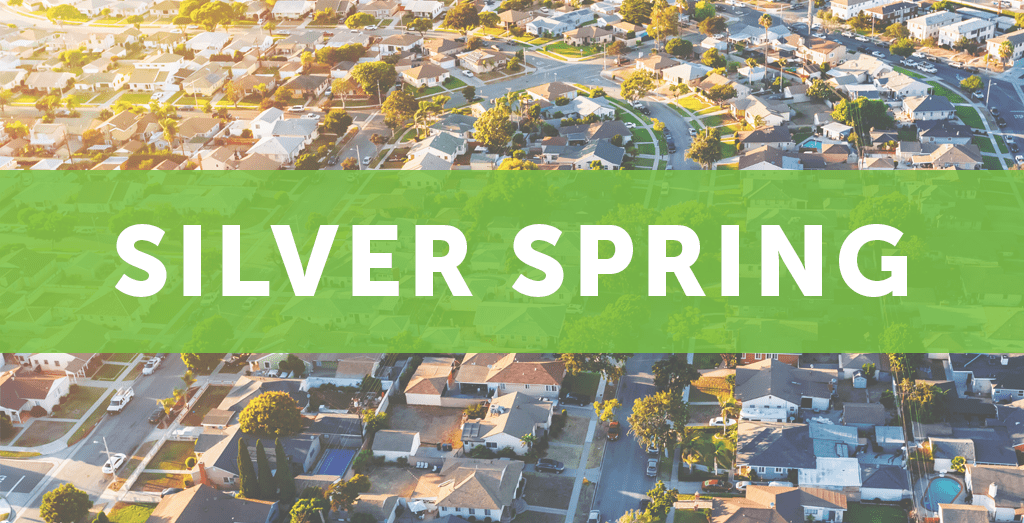 Silver Spring
Silver Spring is a growing suburb located just north of Washington, D.C., with a population of over 81,000 residents. The city's economy is diverse, with industries such as healthcare, education, and technology playing significant roles. This is in addition to a robust population of commuting workers to the nation's capital. The Federal Government and Washington, DC in general attract many young professionals to the area. Silver Spring is a popular place for these workers to live and commute from. These young professionals also tend to prefer to rent than buy, creating a robust and highly educated and compensated potential tenant pool for investment properties.
Silver Spring also boasts numerous cultural attractions, such as the AFI Silver Theatre and Cultural Center. Investors in Silver Spring can take advantage of the city's steady rental market. According to the Zillow Observed Rent Index April 2023, the average market rent in Silver Spring is $2,099 per month. This is up $25 year-over-year, despite the general market slow down. Silver Spring also hosts several events throughout the year, such as the Silver Spring Jazz Festival and the Silver Spring Restaurant Week, which bring in visitors and provide a great opportunity for short-term rental income. With its steady rental market, growing population, and diverse economy, Silver Spring is a promising market for real estate investors looking for high cash flow and steady returns.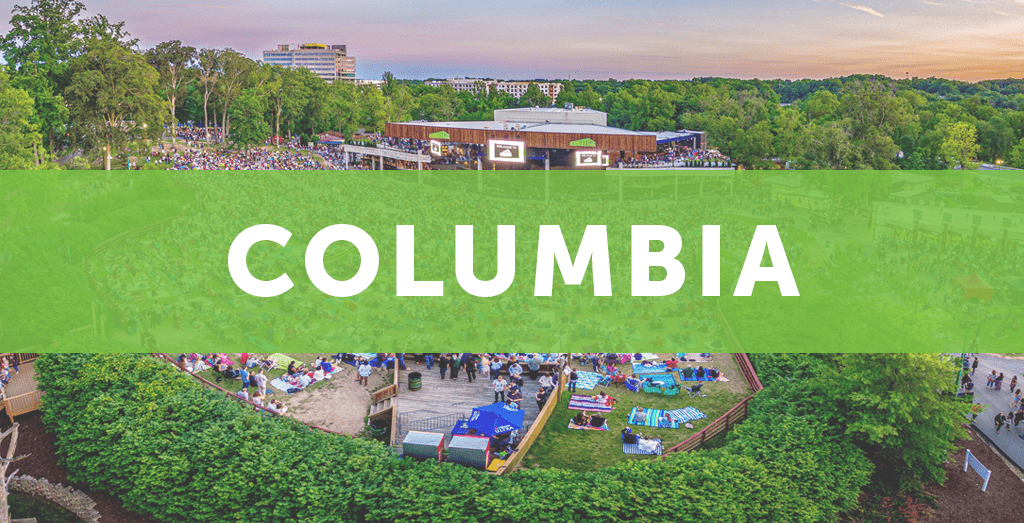 Columbia
Columbia is a thriving market located in central Maryland with a population of over 100,000. The city has a diverse economy that includes healthcare, education, and government industries. Columbia's downtown area is bustling with a variety of shops, restaurants, and cultural attractions, such as the Merriweather Post Pavilion, an outdoor concert venue. The city also boasts several parks and trails, including the popular Lake Kittamaqundi.
Columbia's economy is expected to continue growing in the coming years. The city is home to several major employers, such as Howard County General Hospital and the Howard County government. According to the Howard County Economic Development Authority, Columbia is projected to add over 27,000 new jobs by 2025. With a strong demand for housing and a growing job market, Columbia is an attractive market for real estate investors looking for long-term appreciation and cash flow.
The arguably best reason real estate investors like Columbia for investment properties is its location. It is situated between two large cities, Baltimore to the north and Washington, DC to the south. Thus, the tenant pools include commuters to both cities as well as workers in the local economy. It is also subdivided into ten "villages" giving residents an often coveted small town feel. This vibe, along with the nearness to major population centers, offers a best of both worlds for real estate investors.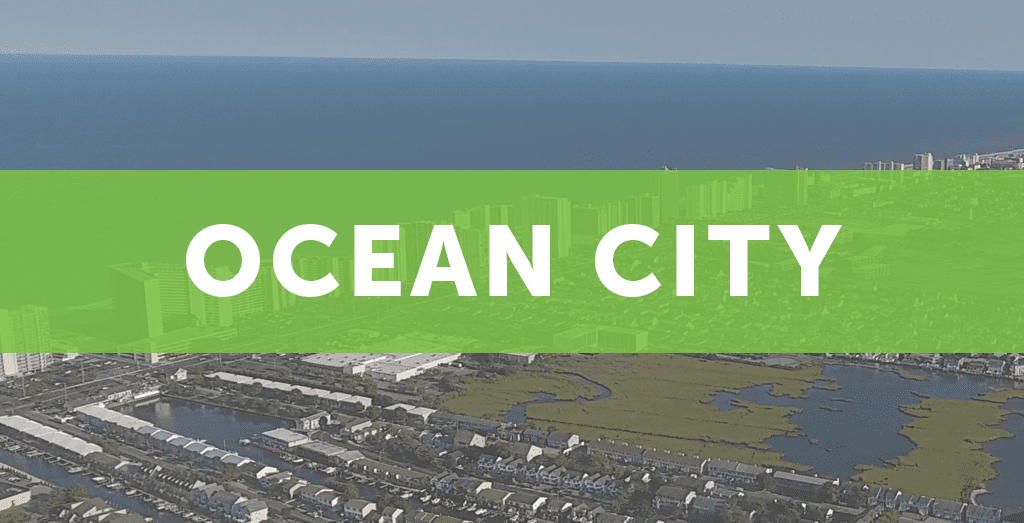 Ocean City
Ocean City is a charming coastal town known for its beautiful beaches, amusement parks, and boardwalk. Its downtown area has a thriving entertainment scene. It features a range of shops, restaurants, and cultural attractions. Visitor favorites include the Ocean City Life-Saving Station Museum and the Trimper's Rides and Amusements.
Ocean City is also a popular destination for beach enthusiasts, with a bustling boardwalk. The blend of beaches, boardwalks and seafood delicacies make Ocean City an attractive location for short-term rental investors. Visitors come from nearby cities such as Baltimore, Washington DC, and Philadelphia for weekend getaways and longer vacations.
According to AirDNA, a leading data provider for investors in short-term rentals, Ocean City is a market with potentials and pitfalls for investment properties. Pros include a solid regulatory regime friendly to vacation rental operators. Additionally, STR investors can earn big revenues during the summer busy season (>$6,500 on average in August per AirDNA)! However, it also flags Ocean City as a highly "seasonal" market. Specifically, it is very popular during the spring and summer beachgoing seasons. During the winter months however, occupancies can be low. Investment property owners in Ocean City should thus have a strategy to prepare and handle the offseason before purchasing.
Ready to Get Started?
Ready to invest in real estate in Maryland? Easy Street Capital is top lender for investment property loans in Maryland, both hard money rehabs and long-term rental properties.

Subscribe to our newsletter