Real Estate investors looking for cash flow and appreciation are flocking to Montana to build rental property portfolios. The Treasure State is a current favorite of real estate investors for many factors. These include a strong and stable economy, low vacancy rates and a growing population. Easy Street Capital is proud to be a leading provider of rental loans for real estate investors in Montana; Big Sky Country!
Types of Rental Loans for Montana Real Estate Investors
When it comes to real estate investing in Montana, there are many markets and types of investment property loans to choose from. For investors that like to get their hands dirty, rehabbing run down properties, hard money renovation loans are a perfect choice! These loans allow you to buy a property quickly and finance your rehab costs as well! Once you are done, you can either "flip" the property for a quick profit or pursue the BRRRR Strategy buy renting it out and then refinancing into a long-term, low-rate DSCR loan!
Investors looking for an easy entry into the rental property market should consider DSCR loans, which offer great investment opportunities. The properties available for purchase through DSCR loans are turnkey, meaning that they require no additional work and can be rented out immediately. Turnkey rental properties are typically single-family homes that are fully furnished and rented out for either short-term or medium-term stays. This makes them an excellent option for generating steady cash flow and potential appreciation in value.
One of the benefits of DSCR loans is that they often come with a fixed interest rate for thirty years. This means that investors can enjoy long-term financial stability with a steady stream of rental income and property appreciation over time. The fixed interest rate also helps to keep the cost of debt constant, which is a huge advantage in case of rising interest rates. As a result, DSCR loans are a smart investment strategy for those seeking long-term financial stability and reliable cash flow from their rental properties.
Where To Invest In Real Estate In Montana
Montana is an often overlooked market for real estate investors because of its smaller, lesser known markets. However, the state offers great potential for each type of real estate investor, and generally has less competition than more populous coastal states! Billings is the state capital and the most populous city. Missoula is a rapidly growing city in western Montana and home to University of Montana. Great Falls is the state's third largest city and a cultural, commercial and financial center of the state. Bozeman is another rapidly growing city nearby Yellowstone National Park. Finally, Kalispell, in Flathead County is a growing city and near Glacier National Park, well-located for vacation rentals.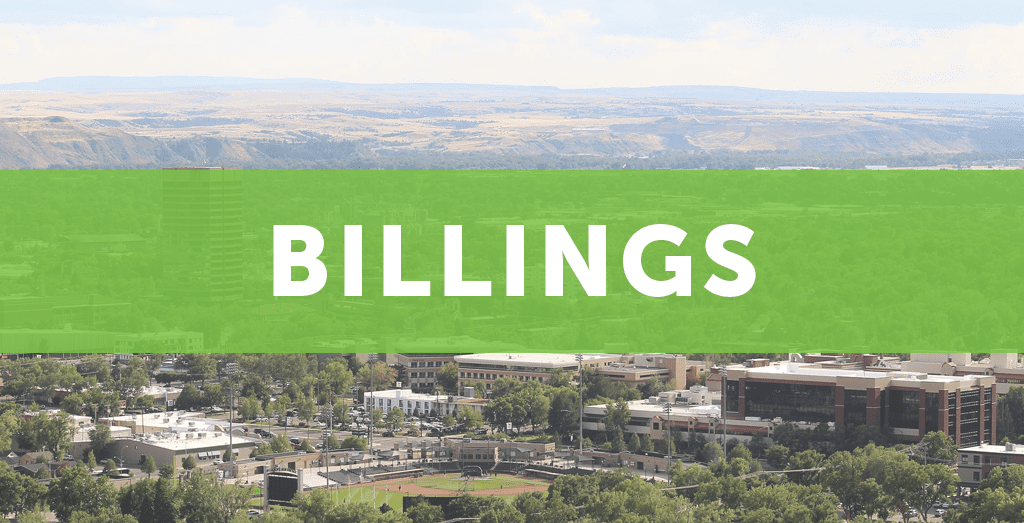 Billings
Billings is the largest city in Montana, with a population of over 109,000 people. The Billings metropolitan statistical area has a population of approximately 180,000, making it the largest urban center in Montana. The city has a diverse economy with a mix of industries, including healthcare, energy, and agriculture. It is home to several major employers, including St. Vincent Healthcare, Billings Clinic, and the Billings Public Schools. These major employers provide a solid employment base for renters. The city and surrounding area is also home to many colleges, including Montana State University Billings and Rocky Mountain College. These institutions attract a large number of students and young professionals who need rental properties.
Billings' strong economy and diverse population make it an attractive market for real estate investors. The city's growing job market and population growth create a steady demand for rental properties.. The city also offers a variety of attractions, such as the Yellowstone Art Museum, the Western Heritage Center, and ZooMontana. These amenities provide a robust market for short-term rentals.
Overall, Billings' strong economy and diverse attractions make it a great market for real estate investors looking to invest in single-family and multifamily properties, as well as short-term rental properties.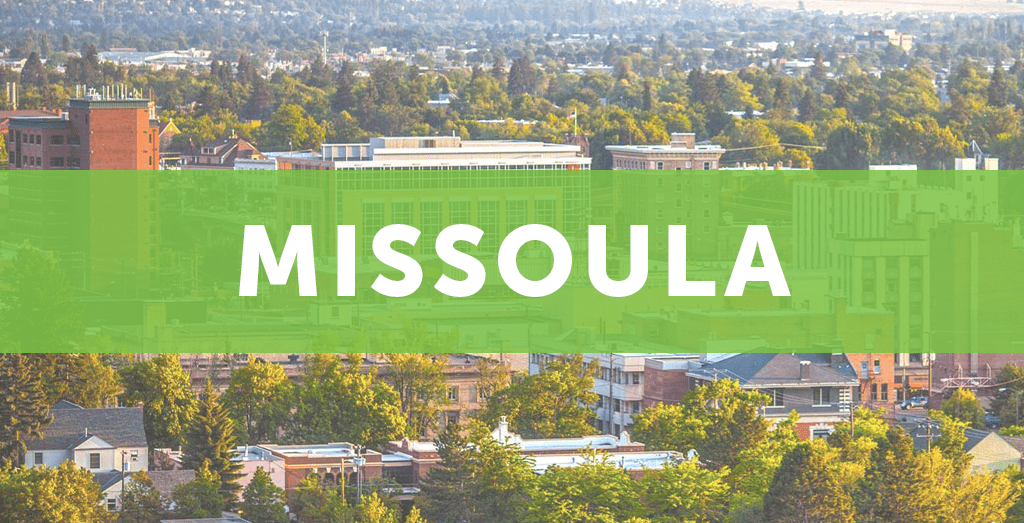 Missoula
Missoula is home to the University of Montana, the state's largest university. But it's not just a college town. Missoula has a population of over 75,000, making it the second-largest city in Montana. It is also home to several museums and cultural attractions, including the Missoula Art Museum and the Montana Museum of Art & Culture.
Real estate investors who specialize in niche strategies, such as student housing or short-term rentals, will find Missoula to be a great market. The University of Montana attracts a large number of students who need rental properties, creating a steady demand for student housing. Investors who select properties located near campus and that rent to reliable students can earn high returns.
Missoula is experiencing rapid population growth, leading to sky-rocketing values for real estate investors. Per Redfin, as of March 2023, Missoula home prices were up a whopping 15.3% year-over-year!
Missoula is also a city that hosts numerous events throughout the year, such as the International Wildlife Film Festival and the Montana Folk Festival. These events attract a large number of visitors, creating a steady demand for short-term rental properties. Overall, Missoula's diverse attractions and growing population make it an attractive market for real estate investors. Especially those looking to specialize in student housing or short-term rentals.
Great Falls
Great Falls is a charming city in north-central Montana, home to over 58,000 residents. It is situated on the banks of the Missouri River and surrounded by picturesque landscapes of mountains, forests, and rivers. The city's economy is diverse, with industries such as healthcare, education, and agriculture playing key roles. It is also a major center for tourism, with attractions such as the Giant Springs State Park and the Lewis and Clark Interpretive Center.
Great Falls has a thriving downtown area with many shops, restaurants, and cultural attractions that attract both locals and visitors. The city is also known for its vibrant arts scene, with many galleries, museums, and performing arts venues. Additionally, it has a growing craft beer and food scene, with numerous local breweries and eateries. Real estate investors can benefit from both long-term and short-term rental demand in Great Falls. The city hosts several events throughout the year, such as the Montana State Fair and the RiverFest. The nearby Glacier National Park also draws in a large number of visitors, providing an opportunity for short-term rental income. With its strategic location near major highways and airports, Great Falls is an ideal destination for tourists looking to explore Montana.
Overall, Great Falls' diverse economy, attractive cultural attractions, and growing tourism industry make it an excellent market for real estate investors looking to purchase investment properties.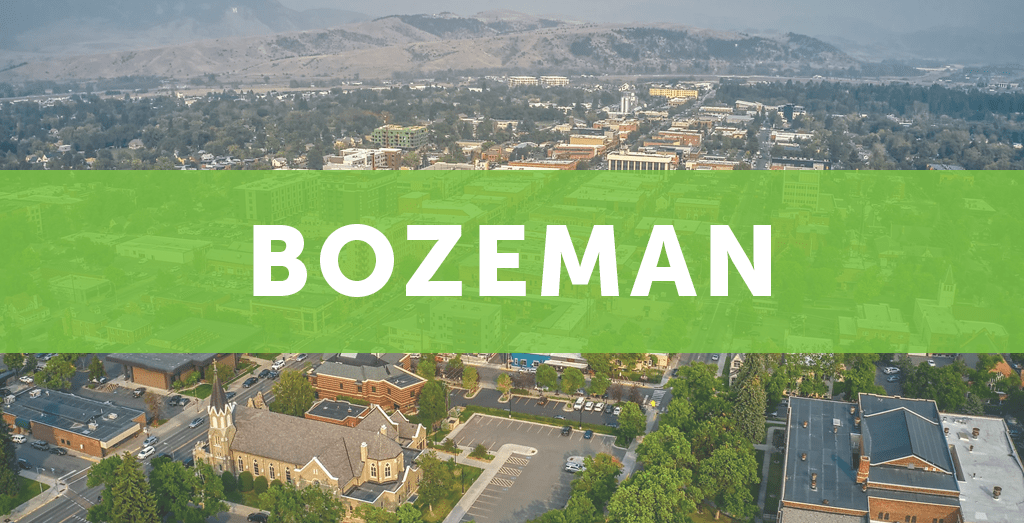 Bozeman
Bozeman, in southwestern Montana with a population of over 49,000, is one of the largest cities in the state. The city has a diverse economy, with leading industries of healthcare, education, and technology.
The city of Bozeman continues to attract residents (and potential renters) at a record page. It was named the "fastest growing micropolitan statistical area in the country three straight years in 2018, 2019 and 2020! Yellowstone National Park continues to bring in tourists throughout the year. Additionally, popular television series themed to the area have popularized the city for young and high-earning professionals.
Bozeman also has several cultural attractions, including the Museum of the Rockies and the Emerson Center for the Arts and Culture. The city's location in southwestern Montana also makes it a desirable destination for tourists throughout the year. It features outdoor recreation opportunities such as skiing, hiking, and fishing in nearby areas. An April 2023 Report by AirDNA, a leading provider of market research for short term rental investors, ranked Bozeman as a top 3 market for cabin airbnbs! Backup up this claim was a projected occupancy rate of 66% and an ADR (average daily rate) of $446! Meaning, average short term rental investors per AirDNA should earn $89,196 annual on Bozeman/Yellowstone STR cabins!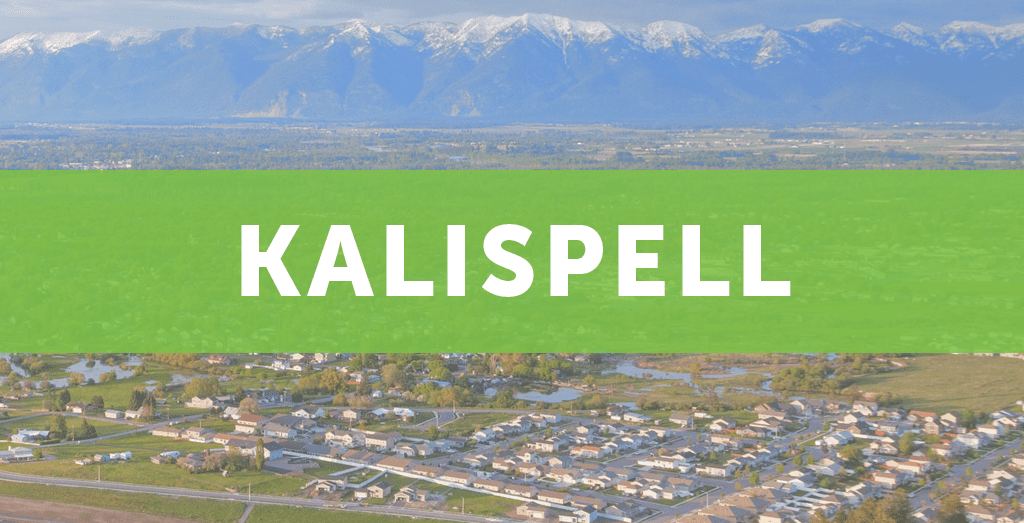 Kalispell
Kalispell is a picturesque city situated near Glacier National Park, renowned for its natural beauty and abundant outdoor recreational activities, including skiing, hiking, and fishing. The city's thriving vacation rental market draws visitors year-round, with peak seasons during the summer months. Additionally, the city hosts numerous events such as the Northwest Montana Fair and Rodeo and the Montana Dragon Boat Festival. These attract even more visitors and rental income.
AirDNA, the leading data provider for investors in short-term rentals, reports that Kalispell has a Market Grade of B and a great 77 rating for "rental demand," indicating it's a fantastic option for vacation rental investors. According to AirDNA, investors can expect monthly revenue of over $3,500, with an average daily rate of $257. This shows excellent potential for high-end vacation rentals. By using DSCR loans from a forward-thinking lender such as Easy Street Capital, which qualifies the property's income using AirDNA projections, investors can likely generate significant cash flow.
Kalispell's stunning natural scenery, proximity to Glacier National Park, and consistent demand for vacation rentals make it an attractive market for short-term rental investors.
Ready to Get Started?
Ready to invest in real estate in Montana? Easy Street Capital is Montana's best provider of investment property loans for both hard money rehabs and long-term rental properties.

Subscribe to our newsletter