Rocket Homes recently published their monthly report on the Austin housing market. This report detailed year-over-year changes in sold prices, number of homes listed for sale, and other stats that provide a look into the current state of the Austin housing market.
In this post, we'll look at three takeaways and what they mean for real estate investors looking to invest in Austin, TX.
Key Takeaways
1. Home sold prices have risen 12%
2. 3,143 homes were listed for sale
3. Austin is currently a buyer's market
Rising Home Sold Prices
The median sold price in Austin is $599,823, this is an increase of 12% compared to last November. This averages out to roughly $376/sqft. The increase in sold prices should come as no surprise considering that Austin has consistently been ranked as one of the fastest growing cities in the United State.
In the image below, you can see that sold prices for homes of all sizes has increased.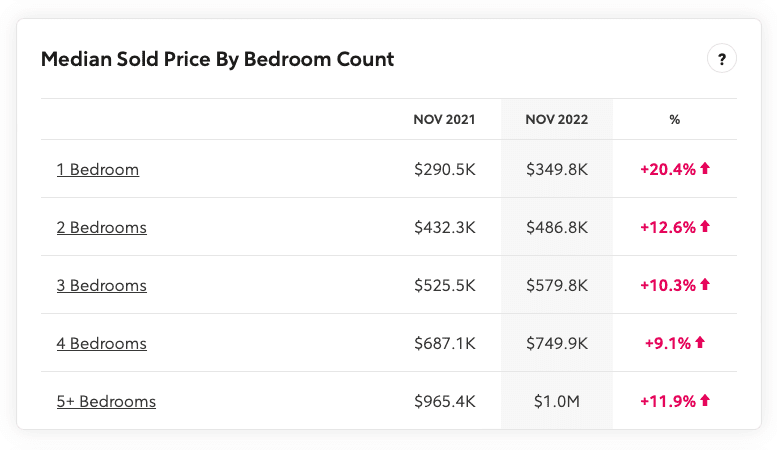 Source: Rocket Homes
Homes Listed for Sale
3,143 homes were listed for sale in November. This is only a slight decrease compared to last year when there were 3,154 homes for sale. There were fewer 4 and 5-bedroom homes for sale while 1-3-bedroom homes grew slightly.
Is Austin a Buyer's Market?
Last November, Austin was a seller's market. The average sale time for a home in Austin was only 19 days. However, this year homes now take an average of 43 days to sell. While this is still a quick process, homes are not selling nearly as fast as they were at the same time a year ago.
The report also mentions that over 70% of homes sold in November were sold for below asking price.
What it Means for Real Estate Investors
The Austin housing market continues to push ahead even in a difficult period for the national housing market. While the market may not be moving as quickly as last November, this is still a great opportunity for real estate investors to capitalize and potentially find properties for under asking price and increase their overall return on investment.
Need Financing?
While other lenders have closed their shops or raised their rates, Easy Street Capital has made it easier to get a fix-and-flip loan. Our EasyFix program offers fix-and-flip rates as low as 8.9% and financing up to 90% of loan-to-cost (purchase and rehab). To ensure a quick close, term sheets are issued within 24-hours of application, and we can close in as little as 48-hours.
If you're in need of a hard money loan, complete our simple, two-minute application and get your term sheet within 24-hours.

Subscribe to our newsletter