There are those who can jump right into becoming a full-time Real Estate Investor and there are those who are taking the transition one step at a time. Here at Easy Street Capital, we believe there is no right or wrong speed to welcome investment real estate into your life, especially if it is a dream of yours. We recently sat down with Ellen Hurtado, a first-time Houston, Texas flipper who is slowing making the transition from Physical Therapist to Real Estate Investor.
Ellen has 2 kids, ages 11 and 7, and is currently working part-time, 4 days a week. She has two close friends in real estate, both who own rental properties, and after hearing about their experiences she became interested in following their footsteps.
"Whenever they had talked about it with me I was always interested but always thought 'yeah, I'll do that later.' Three years ago I was diagnosed with cancer and I realized I might not have a later. This is something I should do now. If it wasn't for that, I'd probably still be procrastinating."
Ellen claims she very much enjoys her part-time position, but ultimately hopes to work less as a Physical Therapist and more as Real Estate Investor.
"Personally, what really pushed me to begin flipping houses was the fact that I want more free time to spend with my family. I want to have more flexible time to spend with them. When it comes to juggling both a flip project and my part-time job, there is a bit of a tight schedule. That's why I really liked working with Easy Street – because they saved time," Ellen said.
"Before beginning this project, my biggest concern was funding and how to get it to work. After researching, hard money loans seemed more doable," Ellen added. "One thing I really liked is that most hard money lenders were also investors themselves and had lots of real estate knowledge. It was different from a traditional bank where lenders had a totally different perspective from yours and what you were trying to do with your project."
Ellen heard about Easy Street after stumbling across a Facebook Advertisement. She claims she was happy with her experience both flipping her property and working with Easy Street and hopes to fund two more homes with us this year.
"In comparison to other lenders, the rates at Easy Street are similar rates. But, the fact that [Easy Street] requires less paperwork made the process seem less time consuming when I was searching for lenders. And that was my initial goal – to save time. There was a lot less hassle and Easy Street was able to close quicker than the other lenders I was looking at," Ellen said.
"Everything with my experience has been very positive. I didn't have to send in any bank statements which helped save time. Kelly [an Easy Street Loan Originator] is very easy to work with. She responds immediately no matter what form of communication it is – email, phone, or text. I also work with Kirk [an Easy Street Senior Associate]. He responds right away as well. Since it was my first flip I asked a lot of questions and everyone was always very patient with me."
The property Ellen funded had an initial purchase price of $185,000. Ellen received a total loan amount of $193,000 from Easy Street Capital which had a 90% LTC (loan to cost) ratio. She originally found this investment property from a real estate agent who found it from a wholesaler. Our borrower claims that when searching for an investment property to purchase, she didn't have a ton of requirements but was specifically looking at the price and that nothing major was wrong with the property.
"The property was for sale by owner. It was a complicated situation because there was still a tenant in the property. The owner was a woman and the person living in the house was her ex-husband. I think she wanted to sell it because she didn't want to have to kick him out."
"As far as using a hard money loan, I wouldn't do anything different moving forward. The only thing I would change is working with a contractor who works faster. He did a great job, it just took 6 weeks longer than he said to finish everything."
The contractor was a word of mouth recommendation from a friend. This just shows, that just because a contractor company was recommended, doesn't mean they are the best choice for your specific project or needs. You can read our tips on how to search for the best contractor in our blog here.
"I'd say the vision for this project was half of my own and half of the contractor's ideas. I had a plan for how I wanted most of it to look. The biggest part of the renovations on this property was changing the 1.5 bath to 2 full bathrooms. For that part, I really depended on the contractor to know the best way to complete it. The layout was weird so I needed his knowledge to know what to do with the space in order to make it 2 full bathrooms."
Patience plays a big part in rehab projects, according to Ellen, but the final product is worth the wait in the end.
"The hardest part of this experience was being patient. I'm a pretty impatient person as it is and everything takes longer than you think. Of course everyone knows that. But, just watching the rehab and watching everything unfold – all you wanted was for it to go faster. It's satisfying to see the work done which is why I love looking at the before and after pictures side by side."
"Before putting this property on the market, I had received advice to stage it and to do really nice landscaping. Thankfully my real estate agent staged the home for me and I was able to use a landscaper that she recommended. We have hosted one open house so far and although many of the people who came were neighbors we have had a few showings and received feedback that the house looked great."
Even Ellen's family got involved with this fix and flip project and she said her husband did a lot of great landscaping work on the new property. Here at Easy Street we are excited to help Ellen reach her goal so that she can spend even more quality time with her family and continue to do what they love to do in their free time – travel, go to the beach, and try new restaurants.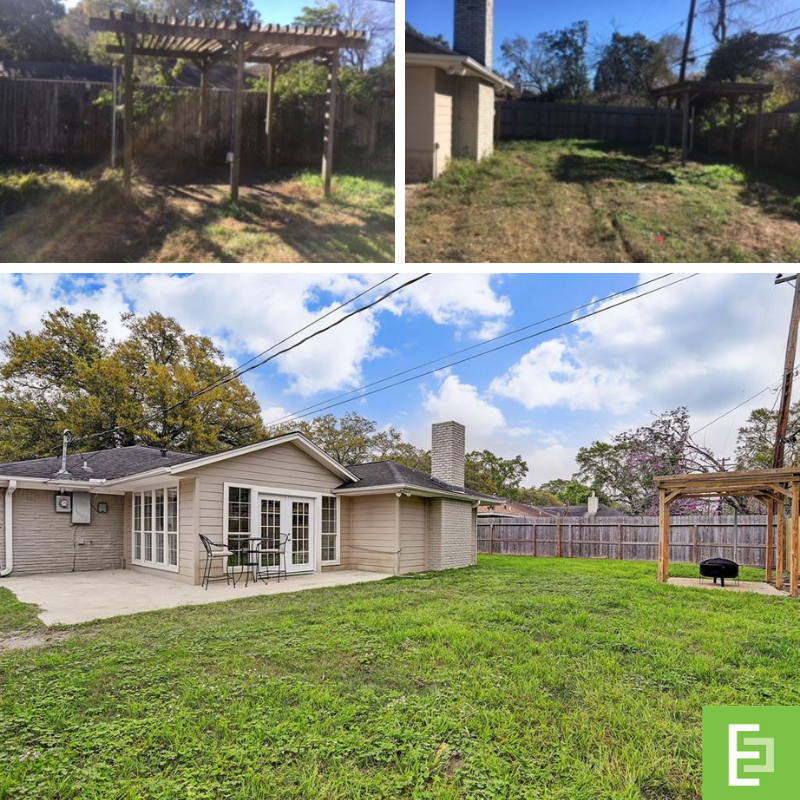 "As far as working less as a Physical Therapist, I think 2 years is a reasonable amount of time for this to happen. Now that I have one flip under my belt, I know now how the process goes and how long it takes. I think that each new project that I start will just go faster and faster."
If you would like to make the transition into becoming either a part-time or full-time Real Estate Investor, like Ellen is doing, Easy Street Capital is here to help! We would love to finance your next investment and answer any questions you may have about Hard Money Loans or Investment Real Estate. Contact us today or fill out our easy loan application and an Easy Street team member will be in contact shortly.

Subscribe to our newsletter