The dream of becoming a full time real estate investor is just that for many, a dream. Our very talented borrowers Matt Miller and his partner, Jake, with M&D Industries have made that dream a reality. In order to make that dream happen, Matt has developed real world experience flipping properties which is the greatest education anyone can have when it comes to real estate investing.
We had the opportunity to sit down to learn more about Matt's investment journey into the world of fixing and flipping which all started in Southern California. Matt wears a few different hats in the real estate investing world. In one role, he is an active investor and in another role he is a broker. Both roles work seamlessly together and allow Matt the opportunity and flexibility to succeed in both positions.
When asked what the most challenging thing about flipping houses is, his answer wasn't too far off from others. "The hardest part of the fix and flip was managing the timelines and contractors. In construction, delays are inevitable and learning how to work efficiently is a necessity if you are going to be successful," says Matt. He is absolutely correct. The longer you hold the property, the more it will cost you and the less you make when you sell. Given Matt's experience, he has been able to fine tune his process to ensure maximum success with each flip.
Matt did have insightful things to say about why he loves flipping houses, "The best part about a rehab project is seeing your creative vision come to life as you transform a beat up property into a beautiful modern home. Knowing that you are renovating a property and having a positive impact on the neighborhood and community also gives a sense of purpose beyond the financial incentives."
Matt and his partner did just that, transformed a run down property into a beautiful modern home that sold within days of being listed.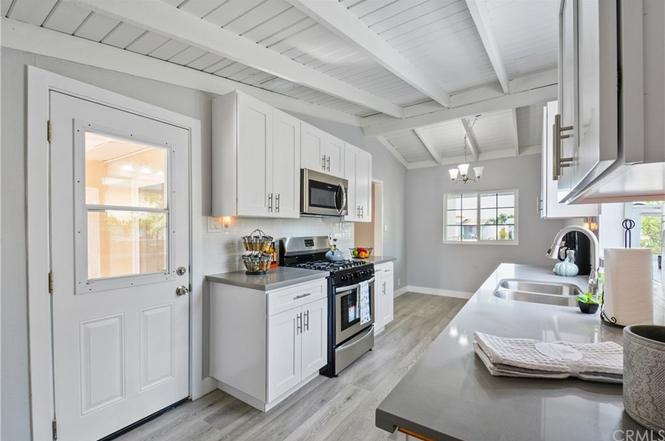 There is a good reason their property went so fast, there wasn't a part of the home that went untouched. Matt said, "This property received a complete renovation. About the only part of the property that was not replaced was the roof! A full interior and exterior remodel, new doors and windows, a new HVAC system, new kitchen, bathroom, Landscaping and even a fence. We replaced just about everything you could think of on this property. The buyer came home to a practically brand new home. "
But with any great success can come great challenges. Matt and his team faced one big hurdle with the city that they were able to overcome due to their experience and expertise. "We ran into some challenges working with the City of Carson. Our project manager and contractor had to jump through lots of hoops the City put in place in order to comply with their complex regulations. We ended up about 15% over budget for our construction costs and 45 days over on our construction timeline but we sold the property for 15K over our projected ARV and it went into escrow right after hitting the open market so it all worked out in the end", says Matt.
The Carson house isn't Matt's only project, he is constantly finding opportunities to turn a property into the perfect home while helping transform a neighborhood.

Subscribe to our newsletter