Do you have negative feelings towards the term hard money? Renae Velasquez, co-owner of Valiant Investment Properties, is a great example of one of our talented borrowers who was originally weary of this type of loan. She was afraid that if she moved forward with this funding, the interest rate would be too high and she would spend too much money overall. However, after her experience with Easy Street Capital, her viewpoint has completely changed. We recently spoke with Renae regarding her experience using hard money loans to flip various investment properties
"I don't think someone could survive in this industry without a lender," Renae told us. "There are a lot of big lenders out there, but just because they're a big company, doesn't mean they do their job well."
"There is a lot of misguided information on the hard money side. What will be pivotal for [me and my husband, Ralph] in 2019 is leveraging that capital so that we can do even more deals."
Just under 3 years ago, after daydreaming about the idea for more than 20 years, Renae and Ralph Velasquez created their real estate company, Valiant Investment Properties, and bought their first investment property 5 months later. The couple has funded 4 properties with Easy Street Capital, with a total loan amount of $510,000 and a Loan to Cost (LTC) up to 90%. All of these investments are located in Galveston.
"The Galveston market has a ton of opportunity," Renae said. "It's close to our home in the Houston area, but we were specifically drawn to Galveston's margins."
Getting started, the Velasquez's were fortunate enough to have enough of their own capital, and were using their own cash to fund their first investment project. However, they were interested in multiple properties and wanted more investment opportunities that would allow them to create a full-time business in the world of real estate. While their first investment property was on the market, they were unable to move forward with an additional project because their capital was tied, and therefore decided to look into lenders.
"We spoke with many different lenders, including [an Easy Street competitor], before deciding to move forward with Easy Street Capital. I just never had that comfortable feeling with any other lenders," she said.
Renae was recommended to Kelly Smith, an Easy Street Capital team member, in both a Houston investment forum on Facebook and by other investors she had connected with on social media. She told us she took those high reviews into a lot of thought and consideration, and after a great initial conversation with Kelly, she decided to move forward.
"Everything was upfront. It was clear Kelly wanted to be transparent in the process. She was really willing to work with us and the communication was great. We were also attracted to the ease of process overall that Easy Street provided."
Renae claimed that she performed a lot of due diligence with Kelly. There was one experience where she called Kelly late one evening at her home, and she was still very easy to reach and happy to help.
"That was what really built our trust. I know I can count on Easy Street. I don't have a fear of losing a house because it's not going to fund."
Hard Money Loans have allowed Renae to work with 2 – 3 loans at a time, and complete more projects at a faster rate, something she could not do before working with Easy Street Capital.
"So far we've been satisfied. Easy Street has worked with us to meet our needs. We're excited to see how the new programs will be able to do more for us in leveraging more capital."
Her projects typically involve flipping older and historic looking homes, and claims this type of property fits her and her husband's personal style. There are many challenges associated with flipping these types of homes, however, including following the various guidelines associated with an older property, and getting your pricing structures down. Renae admits an additional challenge is keeping the property's historic charm even with the new and updated renovation work.
She likes the opportunity that an older house brings in terms of the ability to gut, design, and completely personalize by herself. In fact, her and her husband have never done a sole cosmetic flip on a property – only a total gut renovation!
Her advice to first-time flippers? Take the plunge and go with a total gut flip rather than a simple cosmetic flip. She claims this is how you get to learn and experience everything that has to do with renovation work – including plumbing, electrical secrets, and much more.
Renae also points out that first-timers should be low on their margins and create guidelines to budget.
"That is the hardest part and the biggest key to flipping. You must expect the unexpected."
Renae has never flipped an investment property where something unexpected didn't happen and said it's important to leave cushion in your budget for those items.
The couple likes to include a personal touch in every house they fix and flip. She loves refinishing furniture and including them somehow in the property's design. In the past, she has used pieces such as barn doors and a 100-year old vanity to include her personal style into each house. It is because of this, Renae admits selling their flip properties can be emotionally hard – until they see the final paycheck!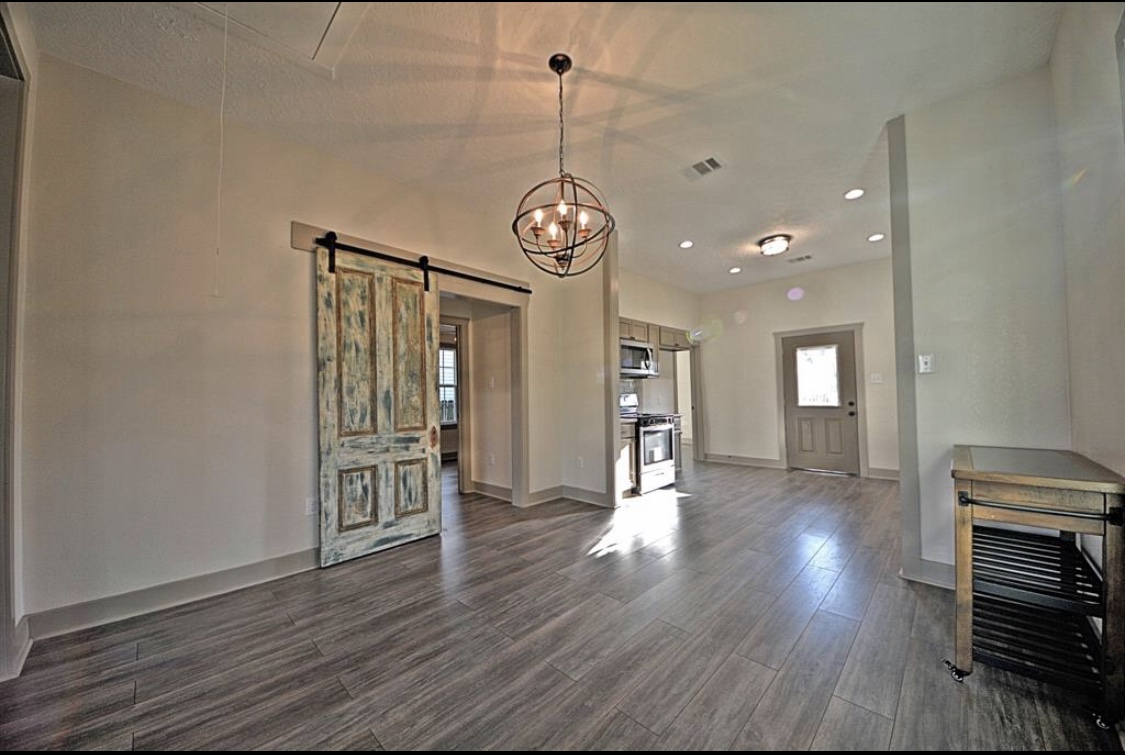 "Having the ability to see what a property is to what it could potentially become is an amazing thing. A lot of people can't envision the final product."
Design inspiration for the Valiant Investment Properties' owners comes from new home design trends, Open Houses they attend, review listings on HAR, talking to other buyers to understand what they are looking for in a house, and lastly, Pinterest.
When it comes to resources, Renae says networking is the most important way to learn and grow as a real estate investor.
"We help each other. Some investors are more helpful than others, and some refuse to give their secrets away, but someone really helped me and that's what I want to do for other people. There are so many opportunities to not be greedy and to share what you learn. I've met some really incredible people to share ideas with."
Renae calls her husband a "social butterfly" which has come in handy when it comes to networking in the community. She claims you should be open to networking in any situation and should always keep business cards on you. For example, neighbors and those driving by will occasionally stop and ask questions if Renae and Ralph are outside working on their flip property. Simple conversations like this could ultimately lead to meeting the right contractors and other investors to potentially share future projects with.
"Networking is priceless in this industry – it's something we can all benefit from. You have to get out there and network. Not to mention, finding contractors can make or break you in this business."
Other helpful resources she recommends are various Easy Street blogs, and joining Facebook groups targeted to your area such as Houston Real Estate Investors, Houston Real Estate Investing Association, Prosperity Real Estate Group and Right Path Real Estate. When preparing your project, budgeting websites can be a great time-saver. Renae is a frequent visitor of https://www.homewyse.com, where you can calculate various estimates such as material costs, installation costs, and maintenance costs, and https://www.concretenetwork.com/concrete/howmuch/calculator.htm where you can calcuate concrete slabs and footing pours. Helpful books she recommends are "Flipping Houses for Dummies" and "Flip: How to Find, Fix, and Sell Houses for Profit." Renae and her husband have never paid for a single real estate or investment course, which goes to show anyone who is interested in flipping houses has the ability to grow their knowledge and get started working towards their dream.
If you have any questions regarding Easy Street Capital or hard money loans in general, don't hesitate to reach out to us. We would love to help you achieve your investment goals!

Subscribe to our newsletter